Pacific Islands Brief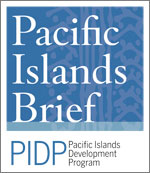 Permanent URI for this collection
The Pacific Islands Brief
series seeks to stimulate discussion by providing concise overviews of contemporary issues in the Pacific Islands region. It is available exclusively in electronic format. The views expressed in this series are solely those of the authors and not of any organization with which they are affiliated, nor do they reflect the policy or position of PIDP or the East-West Center.
The East-West Center ScholarSpace community contains digital versions of just some of the several thousand books, periodicals, and unpublished papers generated by the Center over the past 50 years. Find a complete list of recent East-West Center publications and learn how to obtain them at EastWestCenter.org/publications . Search for recent and older works from 1960 - present using the Center's library catalog at EastWestCenter.org/riscatalog.
Unless otherwise noted, all content © East-West Center. All rights reserved.