Whistler, W. Arthur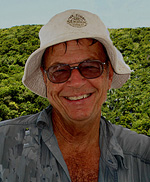 Permanent URI for this collection
DR. ART WHISTLER is a botanist whose field of expertise is the plants of the tropical Pacific islands, including Hawaii, the rest of Polynesia (including Samoa, Tonga, and Tahiti), Fiji, and Micronesia. Born and raised in Southern California, where he attended the University of California for his bachelor's degree (Riverside) and master's degree (Santa Barbara), he began his Pacific experience with a three year stint in the U.S. Peace Corps teaching college biology in Western Samoa (1968-70). Following the Peace Corps assignment, he moved to Hawaii where he attended the University of Hawaii and received his Ph.D. in Botany (1979), with his dissertation focusing on the vegetation of Samoa.

He subsequently became a lecturer in botany at the University of Hawaii until he received a post-doctoral appointment at the National Tropical Botanical Garden on Kauai. He worked at that garden for nine years as an ethnobotanist (a scientist who studies how people use plants in native cultures), with particular emphasis on herbal medicine in Polynesia. This was followed by his current work with the small consulting company he founded, Isle Botanica, located in Honolulu. As a consultant, he has worked on numerous botanical projects in the Pacific Islands, including Samoa, Tonga, Niue, Fiji, Tuvalu, Kiribati, the Marshall Islands, Yap, Chuuk, Guam, and the Northern Marianas. Dr. Whistler has published numerous scientific articles about plants, as well as ten books, including Tropical Ornamentals: a Guide (2000, published by Timber Press), Plants in Samoan Culture (2001), Polynesian Herbal Medicine (1992), Tongan Herbal Medicine (1992), Samoan Herbal Medicine (1996), Flowers of the Pacific Island Seashore (1992), Rainforest trees of Samoa (2004), The Samoan Rainforest (2002) and Wayside Plants of the Islands (1995).

Dr. Whistler was a visiting Associate Professor of Biology at the University of the South Pacific in Fiji in 2007. He is also an Adjunct Associate Professor with the University of Hawai'i Botany Department and with the Lyon Arboretum, and a research affiliate at the Bishop Museum Botany Department in Honolulu. Current projects include work on the flora of Samoa and Tonga and a book (expected 2008) on the ethnobotany plants of Polynesia.