Department of Geology and Geophysics History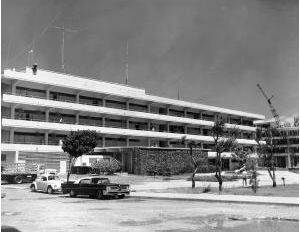 Permanent URI for this collection
The University of Hawaii is a land grant, sea grant, and space grant institution, and this is reflected in the research and teaching programs of the UH at Manoa Department of Geology and Geophysics (http://www.soest.hawaii.edu/asp/GG/index.asp).
The Department offers a wide range of active, extramurally-funded, research and study programs at the graduate and undergraduate levels. The Department has a reputation for high quality faculty, research facilities, and opportunities in the Earth, Ocean, and Space sciences. Our BA, BS, MS, and PhD degrees cover a wide range of topics in these fields. Our geographic location in the midst of the Pacific Ocean and the rich geologic setting of Hawaii provide a natural focus for research programs in:
Composition and dynamics of Earth's deep interior
Formation, motion and recycling of Earth's crust (the rock cycle)
Earth's surface: water, sediments, and life
Earth history
Earth hazards, resources and sustainability
The Solar System
The faculty is large (about 29 teaching and research faculty and about 36 additional graduate faculty) and diverse, so there are strong programs in all major sub-disciplines. The quality of the school's research vessels, submersibles, and analytical and computing facilities reflects its commitment to excellence in field studies, as well as in theoretical and modeling studies. About 20,000 students are enrolled at the Manoa campus, and the Department of Geology and Geophysics normally has 50-60 graduate students and 40-50 undergraduate students in residence. About one third of the students are women and 15% are from foreign countries.
The Department is organized into three divisions:
Geophysics and Tectonics(G&T)

takes advantage of the University of Hawaii's mid-Pacific setting to investigate a wide variety of geodynamic, tectonic, and geophysical phenomena that operate over a broad range of spatial and temporal scales.

Marine and Environmental Geology (MEG)

is focused on the physical, biological and chemical interactions that characterize Earth surface environments. The program includes instructional and research opportunities in a wide range of topics related to marine, coastal, and tropical watershed environments.

Volcanology, Geochemistry, and Petrology (VGP)

Hawaii scientists are uniquely situated to learn all major aspects of volcanic systems. Researchers study ocean spreading centers, physical volcanology, intraplate volcanism, and volcano monitoring.
The Department is part of the School of Ocean and Earth Science and Technology (SOEST), formed in 1988 to enhance educational opportunities and to accelerate growth of the University in these fields.