Pacific Cooperative Studies Unit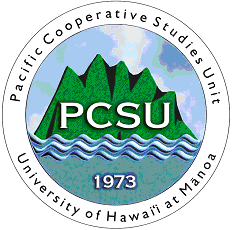 Permanent URI for this community
The Pacific Cooperative Studies Unit has a thirty-four year history of working to protect cultural and natural biodiversity in the Pacific while encouraging a sustainable economy. Originally founded to support research in U.S. National Parks, the unit has also expanded its efforts to work cooperatively with private and state and federal land organizations, including the Nature Conservancy, Kamehameha Schools, and the State of Hawaii Department of Land and Natural Resources.
Projects range from finding ways to eradicate Miconia and other alien invasive weeds, to restoring the great fishpond seawall at Koloko-Honokohau National Historic Park, to managing watersheds on Maui and Oahu, to restoring Hawaii's endangered plant species, to studying endangered bird species on Maui and Kauai. Studies on cultural resources are also conducted, particularly where they interact with natural resource management. Often the Unit works as a middleman, allowing agencies to pool and coordinate their efforts so that they can attack problems across the landscape at an appropriate scale.
These collections provide technical reports and gray literature pertaining to Native Hawaiian and Pacific Island ecosystems.
News
The Pacific Cooperative Studies Unit & The Hawaii-Pacific Islands Cooperative Ecosystems Studies Unit
University of Hawaii at Manoa
3190 Maile Way
St. John Hall #408
Honolulu, HI 96822-2279
Browse
Sub-communities of this Community
Collections of this Community