Mueller-Dombois, Dieter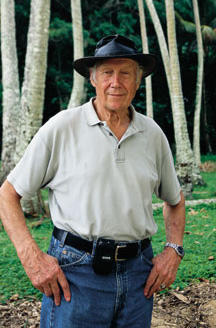 Permanent URI for this collection
DR. DIETER MUELLER-DOMBOIS specialty is vegetation ecology, an area in which I wrote a university textbook together with a European colleague (Aims and Methods of Vegetation Ecology, Wiley & Sons, 1974). Based on that background I became particularly interested in vegetation and ecosystem dynamics, an area in which I did research for the past 25 years. Island ecosystems vary along a spectrum of biological diversity and disturbance regimes and often display a special dynamics that is rarely found in continental ecosystems. The differences are elucidating and carry a strong message for forestry and natural area management.
Browse
Recent Submissions
Integrated island ecosystem ecology in Hawaii: spatial distribution of island biota: introduction

(

Island Ecosystems IRP, U.S. International Biological Program,

1975-06

)

This portion of the synthesis volume is being reproduced now because it is important that all synthesis volume contributors have these basic materials as they prepare their own contributions. Chapter 6, the subject matter of this report, follows the first five chapters that were contained in Technical Report 54 (Introductory Survey, Part I of the Synthesis Volume). It is expected that there will be some reworking of sections of this report as more data are analyzed and the integration needs of the entire synthesis part become more apparent. Chapter 6 is only the introduction to Part II. Additional material will include the altitudinal distribution of individual organism groups (Chap. 7) and their spatial integration along the Mauna Loa Transect (Chap. 8). This report is a draft manuscript of the introduction to Part II of our proposed synthesis volume. As chapter 6, this introduction forms the continuation to Part I in Technical Report 54, which contains the first five chapters. Part II, which is concerned with an analysis of the spatial distribution of island biota in an ecosystem context, is one of four major synthesis areas of the Island Ecosystems Integrated Research Program of the US/IBP. This report gives the conceptual and physical background to our distribution analysis along a transect on a high-island mountain, Mauna Loa. It further discusses current ecological theory of species distributions along environmental gradients and presents examples together with the analytical techniques that we adopted for all organism groups investigated in spatially integrated community samples.